Key Features
Suits all Uniden, GME, Oricom, and other major brand radios
Heavy duty electro-polished stainless steel spring
Quick removable Q-Fit™ whip system
Available in both black and white
Extremely robust fibreglass radome antenna with marine grade chrome plated brass and stainless steel fittings.
Usage
The CDQ8000 is a high gain mobile UHF CB antenna providing an incredible 8dBi gain making it ideally suited for use in fringe and very remote areas and all types of industrial applications where performance is critical
This monster antenna has a rugged design and tough construction making it a highly prized asset in even the harshest environments
The quick removable Q-Fit™ whip system is designed for fast and simple removal when entering low height areas, car washes or for antenna security
When travelling through different terrain, the removable antenna can be swapped over to a larger or smaller size and gain, ensuring the best performance in all geographic areas
This rugged & extremely robust antenna is ideally suited to 4WD bullbar mounting
With a 13mm stud mount and ground plane independant design, this antenna may be installed onto a number of mounting brackets such as mirror mounts, bull bar mounts, gutter mounts or fender mounts and are ideal for installations in commercial vehicles, four wheel drives and trucks
The CDQ8000 can even be used as a base station antenna due to its ground plane independent design. NB: The CDQ8000 has a heavier spring base and is recommended for all replacement whip or whip combinations.
Connection
This antenna has a 5m cable that terminates with an FME Female connector
The FME Female connector is a smaller 6mm connector which makes routing through the vehicle firewall easier than standard UHF connectors
A UHF connector for attaching to your UHF radio is supplied.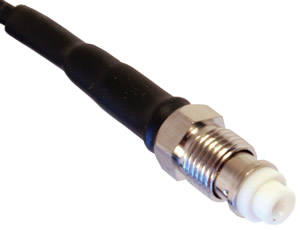 FME Female Connector [pictured]
Please contact us if you would like a shorter length of cable, or a different connector, and we will customise this antenna for you.
A Heads up!
Special delivery:
This product is over 2m in length and will only be sent by specialist freight companies
A 2m long cardboard tube can be easily damaged, so this product is shipped in a custom made PVC enclosure
Due to the costs incurred, shipping of this item is expensive, irrespective of whether we're shipping it to Sydney metro, or to Canada.